Welcome!
NEW! GLJ Model 25 SE v3.0 Now Available for Download!
We are pleased to announce the release of our new GLJ Model 25 Special Edition v3.0, our most advanced, award-winning, study-level business jet simulator for Lockheed Martin® Prepar3D® v5/4.5 and Microsoft® Flight Simulator X.


Peter Stark, PC Pilot Magazine (UK, July/August 2020):
"This most recent model in the series is not a simple upgrade but a major rebuild for FSX and Prepar3D… A fun, fascinating aircraft that exposes you to the skills required by the early Lear pilots as they launched into the sky. The Xtreme Prototypes GLJ25v3 is packed with features, animations and realistic behaviour, systems and impressive innovation. This makes it a very worthy recipient of the PC Pilot Platinum Award (95/100)."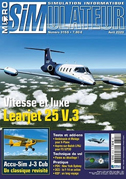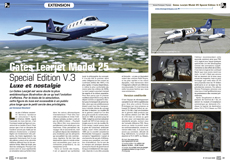 Emmanuel Blanchard, Micro Simulateur Magazine (France, April 2020):
"If we had to describe this addon in two words, we would choose: ambience and behavior. The first to characterize the perfect rendering of an airplane from the 1970's, with its numerous analog switches, controls, steam gauges, and systems that need to be operated manually, all accompanied by visuals and sounds which pay homage to these early days of business aviation. This one is no second-generation airliner, no light airplane, no fighter jet, but a mix of the three… And this is where behavior comes into play. This aircraft has unique flight characteristics and must be dealt with accordingly. It necessitates a pilot in the cockpit!"
---
New Dynamic Light Effects for Prepar3D® v5 with Hotfix 2 Just Released (GLJ25v3)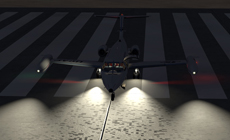 Following the release of Prepar3D® v5 with Hotfix 2, we have noticed a few issues with some of the interior/exterior dynamic light effects in our GLJ25v3 addon which were originally calibrated for Prepar3D® v5 with Hotfix 1. We have just released a new set of light effects that will fix these issues. This affects the Prepar3D® v5 version of our GLJ25v3 addon only, if you have installed Prepar3D® v5 with Hotfix 2. Registered users can download the new light effects from their account page.
---
Our Legacy Addons Now Offered at a Reduced Price for a Limited Time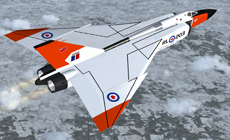 For a limited time only, we are reintroducing our legacy addons, including the legendary Avro CF-105 Arrow, at a very reduced price for collectors. Visit our sections for FS2004 and FSX addons for more details. Prices start at US$5.99.
---
Our Website Has Moved to a New Server
During the transition period, some features may not be fully implemented. We apologize for the inconvenience. We encourage our customers to login to their online account and to update their personal information, email address and password. Please note that bookmarks to our old server will no longer work.